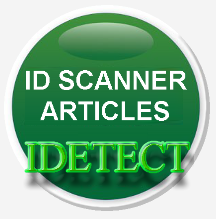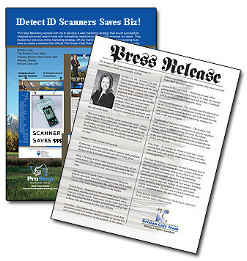 Red Bull Air Race Selects IDetect's Handheld ID Scanners to run all points of entry at their well publicized New York City Air Race held at Liberty State Park.  The event draws thousands of spectators to witness air plane races. General admission spectators are within 100 feet of certain sections of the race course which causes a major concern for security. Red Bull needed to select an ID Scanner that could handle a large influx of spectators quickly yet still maintain complete accuracy with no bearing on what type of ID that was used.  After several months of research Red Bull entrusted the company of IDetect, Inc. IDetect ID Scanners performed and served as the Identification verification tool throughout the event and several other functions.
The IDetect ID Scanner of choice is the new IDetect 310 Handheld ID Scanner.  They were selected because they have a battery life of more then a week of use without requiring a charge, they scan in an ID in less than 1/4 second, they are incredibly accurate in detecting fake IDs, tampered IDs, Expired IDs, Shared IDs,  and Watch List entrants.  The IDetect Handheld ID Scanners were also used to verify the age of entrants coming into the various beer gardens at the race site.  These Handheld ID Scanners were especially effective because they caught many entrants attempting to use tampered IDs, and passed back or shared IDs to enter into the beer gardens.  With the shared ID detection, the security staff was able to detect entrants that were attempting to share wristbands that were given to already approved ID Verification spectators, who were attempting to pass their legitimate Identification card to friends who have not entered the event yet.  "The IDetect ID Scanners proved to be extremely effective for the entry points of the ticketed area and beer gardens" stated Margaret Duddy of At Risk Security, who was also hired by Red Bull to assist with security. , "We heard nothing but great reports on the IDetect, Inc. ID Scanners effectiveness and performance".   Since the use of the IDetect ID Scanners are all in an outside environment, the ID Scanners can withstand the heat and outside elements since they are ruggedized and can take a drop onto any surface without being damaged.
The fact that the IDetect, Inc. ID Scanners can withstand dropping and outside elements was also important to Red Bull. Just like the complete family of IDetect ID Scanner products, the IDetect Handheld ID Scanning systems can take a picture of the entrant, the actual ID used, print a custom wristband for each entrant, charge admission fees as well as operate a Cash Drawer and/or Receipt Printer, accept and assign VIP cards, capture the signature of the entrant, and more.  The complete line of IDetect scanners can be used to alert users of a terrorist watch list match from a scanned ID, people who are using fake or tampered with IDs, and those who have a message associated with their ID.  Our complete line of ID Scanners and all IDetect Identification Scanner products patch a security leak in any facility that uses them seamlessly to stop any ongoing security issues.  With a simple swipe of any government issued ID, or any Identification card the user of the IDetect system quickly can determine whether the scanned ID is real, tempered with, part of a Watch List, or has a special directive associated with it.  The IDetect ID Scanner complete line of products are very easy to use and proven to be highly effective.   IDetect's ID Scanners capability has many innovative uses and is in practice all over North America and Canada.  The IDetect ID Scanners have already shown to be very useful for other markets such as bars, nightclubs, liquor stores, convenience stores, casinos, colleges, universities, festivals, hotels, corporate human resource departments, and special events.
IDetect Handheld ID verification age scanners come ready to use out of the box.  They are easy to use, very fast, and very effective in stopping tampered with IDs, shared ID's, and entrants who are banned for any reason.  They alert the door people within 1/4 of a second whether an entrant is a threat in any way and directs the user on what action to take.  IDetect ID Scanners keep an automated list of all pertinent records collected at the entrance which can be used to assist law enforcement in case of an altercation, or if a previous entrant needs to be found.
IDetect age verification ID Scanners full functionality have assisted in apprehending five separate perpetrators of various crimes throughout North America by utilizing IDetect's exclusive entrant picture, and data collected from the ID Scan.  Automatically upon an identification scan, the entrant's picture is automatically taken and saved with entry information, and then in one step the actual ID picture is taken and also saved.  The picture is clear, exact, and can be used to locate any individual in seconds.  It is fast, accurate, and protects the user from liability, fines, and liquor license and tobacco license revocation.  This feature, coupled with the automatic picture of the entrant, and the IDetect ID scanner's time and date stamp entry history feature, is pertinent information that assists in leading an investigation.
Our ID Scanner can scan both sides of any identification card, a very viable option which can prove very useful.