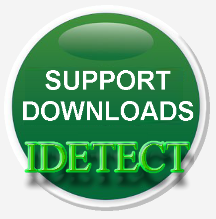 Welcome to the support page of IDetect Corporation, home of the latest technology in ID Scanners, Age Verification scanning products, Identity (ID) validation products and ID Verification products.
Please find your ID Scanner below and see if the version number listed is newer than the one displayed on your scanner. In the rare case that your scanner has to be sent in for repair, please inquire about our loaner program.
PLEASE NOTE: You must have active service and login to this system to get any updates. If your service package has expired, please contact IDetect ID Scanners at (888) 270-4513, ext. 2 to have it updated.
IDETECT QUANTUM HANDHELD ID SCANNERS

Handheld Quantum Update (Version 7.7.6)


IDetectQuantum.exe


Handheld ID Scanner Manual


IDetect Manual Handheld.pdf
IDETECT ELITE HANDHELD ID SCANNERS

Handheld Elite Update (Version 7.7.4)

IDetectElite.exe


Handheld ID Scanner Manual


IDetect Manual Handheld.pdf
IDETECT SILVER HANDHELD ID SCANNERS

Handheld Silver Update (Version 7.6.4)

IDetectSilver.exe

Handheld ID Scanner Manual

IDetect Manual Handheld.pdf
IDETECT HANDHELD LITE ID SCANNER

Instructions to do the update (Please read first) IDetect Handheld Update

IDetect LITE Update.pdf

Handheld LITE Update (Version 7.0)

IDetect LITE.exe

ID Scanner LITE Manual

IDetect LITE Manual.pdf

ID Scanner LITE Tool to do Software Updates

LITEUpdateTool.exe
M310 HANDHELD ID SCANNERS

Handheld ID Scanners Update (Version 7.6.4)

IDetect.exe

Handheld ID Scanner Manual (Version 3.4)

IDetect Manual

Handheld.pdf

TOUCH/Connex ID SCANNERS

Touch/Connex ID Scanners & System Manager - Get Update (Version 6.769.1.4)

IDetect_System_Manager.exe

ID Scanner System Manager - Touch/Connex Manual (Version 0.05.00)

IDetect Manual System Manager.pdf

Ease ID Scanner Driver

CDC-Virtual-COM-Driver

All In One / Passport Plus Driver

DocReaderDvrSetup_1.26.22.exe

Entrant Camera/License Camera Driver

Ent_Cam_License_Camera_Driver.exe

Technical Support Direct Connect

Get Connected.exe