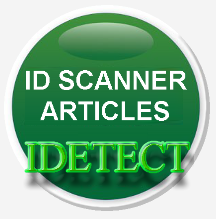 Our handheld ID Scanner System is rugged, compact and portable. Our handheld ID Scanner possesses the same powerful capabilities as our Wallmount ID Scanner. Our handheld ID Scanners combine the power of our cutting edge ID Scanner technology with new advanced features only available in our Handheld:
The absolute leader in Handheld ID Scanners. All of the same functionality from our Wall Mount ID Scanner System but in a small Ruggedized Handheld compact package. Takes and stores picture of entrant and front of their ID, performs Signature Capture for printable Age Verification Forms.
• Live video feed camera
• Camera snaps crystal clear pictures of entrants and front of ID
• Ruggedized
• Performs Signature Capture of Entrants for printable Age Verification Forms
• Works standalone or via Wifi or Bluetooth with a PC
• Network unlimited handhelds for multiple entrances/scanning points
• Prints Custom Wristbands via Bluetooth wireless
• Operates Cash Drawer via Bluetooth wireless
Checks for underage, banned, shared, and tampered with IDs all within 1/4 second.
Our Handheld ID Scanners are ABC/LCB and Law Enforcement endorsed.
Our Handheld ID Card Scanners can Scan Drivers Licenses from our United States of America as well as several countries around the globe! Our ID Card Scanners extract the information from the drivers license and transports the information of ID Cards into a database for alert notification, storing or later review.
When you swipe a drivers license or identification card, you will be told immediately if this person is the proper age to buy tobacco, alcohol or other reason you might need to know their age. This eliminates the need for someone to physically examine the (id) identification card and makes it easy for you to grant access to patrons of proper age. Handheld ID Scanner equipment can be obtained by IDetect corporation. It is no more difficult to use a Handheld ID scanner than a device that scans a credit card, so you can start using the Handheld ID scanners age verification system in your business immediately.
Handheld ID Scanners are a great solution for any industry that serves liquor or tobacco products and possess a minimum age requirement for entry and/or sale of tobacco products or alcohol beverages. Since there are numerous types of handheld id scanners, you need to take several factors into consideration prior to purchasing one handheld id scanner or many handheld id scanners. Buying a handheld id scanner for age verification is not that complicated, however buying the wrong handheld id scanner that does not perform well or for the wrong reasons can become a frustrating experience.
When buying an age verification (Handheld ID Scanner) product, there are numerous steps to consider to determine which handheld id scanner is right for your establishment. Searching, Comparing and Purchasing. By completing these basic steps will ensure you are buying the right handheld id scanner for your business. When looking for handheld id scanners you need to follow a few basic steps:
(1) Searching - First you need to start a collection of relevant information and documentation regarding the various type of handheld id scanners on the market. What kind of handheld id scanners are available, id scan technical specifications, the id card scanning software capabilities, the id card reader scanner prices, id barcode scanner features and id scanning speed capabilities.
(2) Comparing - after learning about all the relevant handheld id scanners for your id application needs, you need to summarize and compare at least two or three models of handheld id scanners and decide which handheld id scanner is the best for your age verification application.
(3) Purchasing - you need to carefully examine the company behind the products of your choice. For example, how long have they been in the handheld id scanner business. Is the handheld id scanner technical support easy to reach? Does the handheld id scanning company display their telephone number and/or company office address? Or is all the handheld id scanner technical support done via email? Are there software updates available for the handheld id scanners? What are all the features available for their line of handheld id scanners? What is the company's buying and shipping policy?
One of the most common mistakes people make when buying a full size wall mountable id scanner or portable ID scanner or handheld scanner is not to fully understand the id scanner capabilities. For example - does the id scanner take a picture of the entrant? how fast does the id scanner scan driver's licenses? Id scan speed is an important issue to your staff members. If you have a multi entry establishment can one scanner communicate with another scanner wirelessly to determine if the patron is using the same drivers license at several door entry's. Does the id scanner provide wristband entry capability? Does the id scanner provide VIP ID Cards? Can the id scanner take it one step further and create a mailing list of patrons for future communication via email or snail mail? Is the id scanner a total solution for any patron age verification establishment? Does the id scanner create a database of reoccurring entry by patrons? The more versatile your id scanner is, the more money and aggravation it will save you now and well in to the future.