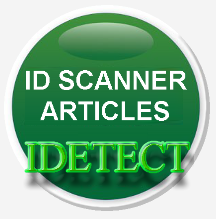 ID Scanners are a useful solution for anyone who has the need to scan ID cards indoor or outdoor to verify the age of a patron at a bar or night club. ID Scanning devices are also used at liquor stores or any public venue that requires a minimum age requirement. Today, there is no problem of finding portable scanners that can scan ID cards to verify age. They are compact, lightweight and very easy to use. Before buying an ID card scanning for the purpose of verifying a drivers license or identification, you must be aware of some issues to make sure you are making the right decision and buying the right scanner for your purpose.
The process of buying an id scanner or age verification system is similar of buying any other product on the market. First you need to conduct your due diligence. Take the time to learn about all the possible solutions available in the market that may suit your needs. All leading up to the purchase of the id scanners.
Before Purchasing an ID Scanner
Buying ID Scanners is simple however you must pay attention to several topics and issues before actually buying a barcode id card reader scanner:
ID scanner capabilities – when looking for a card scanner you need to learn the id scanner capabilities. What is the scanning format, the scanning speed & scanner resolution, for example.
The ID scanner price – what is the ID card scanner reasonable price range and what are your exact installation needs. Remember that price should not be the only factor when looking art card readers. You should also look into a viable solution which suit your needs.
For example. Do you own several clubs that require id verification tools? Do you have several doors that patrons use to access your establishment? If you've answered yes to either of the last two questions, then you've just narrowed down your id scanning company purchase to about 10%. If you have multiple clubs or multiple entrances, then you will need several Id scanners that can communicate with each other. Also, think about the foreseeable future.
You do not want to purchase an independent id scanner if you plan on opening up additional establishments. You do not want to purchase an independent id scanning device if you plan on opening additional doorways for patron entry. You need to purchase a scanner that you can use now and well into the future.
The scanner manufacturer & support – carefully check who you are buying the scanner from. There are many good ID scanners on the market however it's highly recommended to learn first who will be there for you after purchasing if problems will accrue.
Card scanner reviews – check over the web what does the end users think about the product and the company who sold it. Visit forums and try to find out as many information as possible.
Other options – carefully examine the other scanner options such as the ability to use it as a business card reader, drivers license scanner, insurance card scanner, check scanner, passport scanner, medical card scanner, portable barcode scanner or a simple portable document scanner.
ID Scanners – Reasonable Price to Pay
Portable id scanners can be found on the internet in several package offers. The price of Id scanners can start going up and find scanners which are faster, smaller and with better performances. Today there are scanners in the market that can scan both sides of the card, an option which can be very useful - duplex scanners.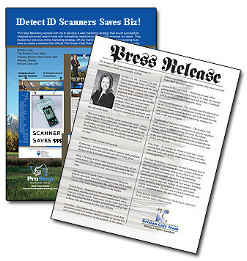 IDetect ID Scanner and ID Scanning Software easily detects "ID Scratched" IDs that kids are doing today. IDetect drivers license scanners have also been used to stop the new threat in ID falsification. ID Scanners or Age Verification Scanners by IDetect will protect your establishment. IDetect ID scanners existing technology that works with this unique ID Scratching identifying is the IDetect Wall Mount License Scanner, IDetect Handheld ID Scanner, and the IDetect id scanner. IDetect Age Verification systems have been successfully utilized for more than 15 years in liquor stores, night clubs, universities, casinos, military bases, office buildings, rental car agencies, festivals, banks, and import/export ports throughout the United States, Canada, and Mexico.
IDetect, Inc. demonstrates its unique ID Scanner software that detects "Scratched" IDs. ID Scratching is the act of making the date of birth or other pertinent information on the front of ones ID appear different than it actually is. Kids these days will change the appearance of their date of birth to gain entrance into a bar or nightclub or other age sensitive facilities. Typically the security that is checking this information is performing this function in a dimly lit area, and/or under time constraints. Therefore a quick glance at this information will appear to the naked eye as authentic. IDetect ID Scanning Software is able to quickly and easily stop entry of an ID that has been scratched by displaying the information from the media on the back of the ID on the IDetect Handheld Scanner, IDetect id scanner, or the IDetect Wall Mount Scanner screen. A quick look at the IDetect License Scanner screen clearly displays the correct information for this ID, and therefore all of the "Scratched" information that is inaccurate. This unique IDetect capability has many innovative uses and is in practice all over North America and Canada. For one, it lowers liability because fewer or no fines are given for serving minors alcohol. It takes the pressure off of Security personnel, and has lowered liability insurance for many establishments. This function has shown to be very useful for bars, nightclubs, liquor stores, convenience stores, casinos, colleges, universities, festivals, and special events.
IDetect drivers license scanners have also been used to stop the new threat in ID falsifying: Placing media on the back of the ID that scans correctly, but does not match any of the information found on the front of the ID. This tactic eliminates "ID Scratching" all together. There is not markings that are performed on the front of the ID, so it appears completely legitimate and not tampered with. But when scanned through the IDetect ID Scanning Systems it immediately and clearly shows the inaccurate information therefore averting liability.
IDetect's ID Scanners have also solved the new ID Scratching practice; scratching the media on the back of the ID. This is done so that when an underage patron comes to an age restricted facility using an ID scanner, the ID cannot be scanned because the media on the back has been scratched and damaged. The security person then has to revert back to examining the ID with his naked eye. If using the IDetect ID Scanners, the security person only has to simply drop this ID into the IDetect License camera box. This will keep a clear picture of the ID that the patron used with the date and time of their visit so that if any liability issues arise, this information can be used to prove that the facility did their diligence.
IDetect ID scanners existing technology that works with this unique ID Scratching identifying is the IDetect Wall Mount License Scanner, IDetect Handheld ID Scanner, and the IDetect id scanner. IDetect Age Verification systems have been successfully utilized for more than 15 years in liquor stores, night clubs, universities, casinos, military bases, office buildings, rental car agencies, festivals, banks, and import/export ports throughout the United States, Canada, and Mexico.
IDetect ID Age scanners come ready to use out of the box. They come with all necessary accompanying hardware, and the IDetect System Manager which is used on a desktop PC to synchronize with the IDetect scanners. They are easy to use, very fast, and very effective in stopping underage drinking, tampered with IDs, shared ID's, and entrants who are banned for any reason. They alert the door people within ¼ of a second whether an entrant is a threat in any way and directs the user on what action to take. IDetect ID Scanners keep an automated list of all pertinent records collected at the entrance which can be used to assist law enforcement in case of an altercation, or if a previous entrant needs to be found.
IDetect Age Verification ID Scanners full functionality have assisted in apprehending five separate perpetrators of various crimes throughout North America by utilizing IDetect's exclusive entrant picture, and new License picture box feature. Automatically upon an identification scan, the entrant's picture is automatically taken and saved with entry information, then in one step the actual ID picture is taken and also saved. The picture is clear, exact, and can be used to locate any individual in seconds. It is fast, accurate, and protects the user from fines, and liquor license and tobacco license revocation. This feature, coupled with the automatic picture of the entrant, and the IDetect ID scanner's time and date stamp entry history feature, is a strong defense and proof of diligence against fines and state authority investigations.
In an attempt to combat the use of false identification in alcohol and tobacco purchases, the Department of Public Safety is encouraging businesses where age verification is required, to implement an identification scanner that would make fake IDs useless.
The device, IDetect's ID Scanner, reads the id scanner barcode and id scanner magnetic strip on the back of a driver's license or ID scanner information to obtain information such as the driver's license number, the license expiration date and the birth date of the driver and much more.
Law enforcement says the scanners would help cut down on underage alcohol consumption. The number of minors purchasing alcohol by illegal means would be reduced because illegally manufactured IDs would be picked up by the scanner. It is impossible to imitate an ID, although with new computer equipment and color printers, many people are getting by with institutions that do not use ID Verification state of the art tools. IDetect's ID Scanners would be an effective way to neutralize technological developments that make it easier to create fake IDs. ID Scanning with IDetect ID Scanners not only stops fake and tampered with IDs right at your door or point of purchase, but IDetect ID scanners also keep all historic and demographic information for each entrant or patron, so that if law enforcement or the ABC/LCB has any questions, you now have all information for them to prove you did your diligence. Used with our pioneered automatic picture taking feature, IDetect ID scanner will stop fines all together!
According to an article in the New York Times, ID Scanning devices are becoming a prevalent fixture at many alcohol distributors. There are many reasons you might need to know the true age of customers who are frequenting your business. Maybe you run a nightclub or alcohol serving establishment and by law, can only serve customers or allow admittance to your establishment to potential customers over the age of 21. Or you could own a shop that sells cigarettes, or a restaurant that serves alcohol and cigarettes.
Whatever the reason you need to verify a person's age, you know that it is important to do so. As a conscientious business owner you don't want to sell to minors, and the fines and penalties can be heavy if you are caught. But checking the identification of every patron and doing the math to make sure they are the right age can be time consuming. That's where IDetect's ID Scanner products for age verification comes in. Our ID Scanners for age verification looks like a credit card scanner. The device reads the barcode or magnetic strip that is built into the patron's driver's license or state identification card in less than a second.
When you swipe their identification card, you will be told immediately if this person is the proper age to buy tobacco or alcohol or for whatever other reason you might need to know their age. This eliminates the need for someone to physically examine the identification card and makes it quick and easy for you to grant access to people who are of age. Electronic age verification equipment can be obtained by IDetect corporation. It is no more difficult to use an ID scanner than one of those devices that swipe a credit card, so you can start using the ID scanner age verification system in your business with minimal staff training, immediately.
A study from Brandeis University looked at the effectiveness of using electronic ID Scanner age verification hardware and found that customers were comfortable with swiping their IDs. Staff who used the equipment said they were generally happy with its ease of use. Getting into the habit of using the ID scanner seemed to be the biggest problem, but once you get used to having the ID scanners available you will use it often, since it is a simple method of verifying age.